Custom Dresses For All Occasions
Algonquin Sewing Design Studio understands that dresses say something. Hemlines, necklines, sleeves, and waistlines are all capable of making a statement.
Being entrusted with a woman's expression is our highest honour. Our Principal Designer, Suzanne Learn, always smiles when the topic of dresses comes up – which is often.
As a designer, Miss Suzanne is drawn to natural materials – silk, linen, wool, cotton, even leather – to build her commissions (remembering a little Lycra can go a long way).
Private Draping and Discovery Session
Every commission begins with a draping in the private fitting room, where Suzanne takes time to explain the fabric's properties, while showing it off in different cuts and constructions.
Custom-Designed, In House, For You:
As the dress is 'found' by Miss Suzanne and the client, she takes notes before preparing a sketch you can take home, along with a fabric swatch. A Haute-Couture trained dressmaker, she creates every piece in-house using the finest construction techniques. Fabrics are sourced directly from Montreal, where we have access to the finest materials in the world, including the wondrous looms of France and Italy.
Get Your Little Black Dress in Short Order
The Studio is also equipped for any Little Black Dress emergency, with more than a dozen black materials in stock to quickly put together an original staple for any lady's closet.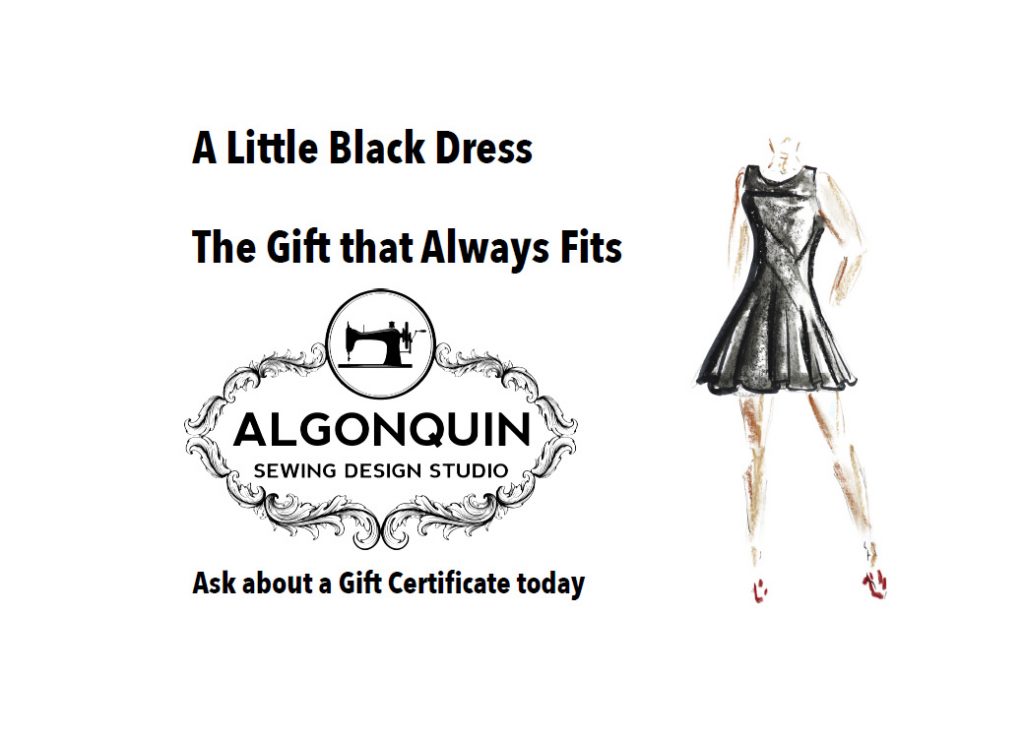 Express yourself with a dress from Algonquin Sewing Design Studio. Contact us today to set up your consultation.