Change How You Shop for Swimwear
Algonquin Sewing Design Studio is changing how women shop for swimwear. Custom swimwear – your suit, done right.
Using our full service custom sewing design house, women are getting the one-of-a-kind suits they want, designed and made just for them.
---
Free Consultation: Tailoring Your Custom Bathing Suit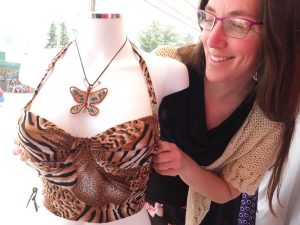 We make Bikinis, Tankinis, and Swimsuits, from modern and vintage patterns. We custom fit you with the support you need.
Underwires, and even boning can be part of the swimsuit you will look forward to wearing any occasion.Principal Designer Suzanne Learn will guide you through the about two-week process for a full support suit with built in bra, custom-made to your form, in your design of choice.
---
Enjoy a Personal Draping
Your free consultation with the Principal Designer starts with a discussion, and you choose from the dozens of Lycras we source from the top shops in Montreal (personally curated by Miss Suzanne). It's a great time to ask about a matching linen coverup.
In the fitting room you experience a personal draping with the designer, where you and Suzanne 'find' the garment together, using the actual material.
During the finding of the swimsuit, the material is draped over the client, showing the cut, style and colour coordinations which are possible.
---
Your Suit, Sketched To Your Specifications
Suzanne will then meet you at the drafting table, where she will sketch out the garment and provide a swatch, before booking your first fitting.
Swimsuits are built in-house, designed and constructed to your satifaction.
Change how you shop for your swimwear at Algonquin Sewing Design Studio. Contact us for your free consultation on your custom swimwear today.